Technical data
Top surface – 190 x 57 cm

Central brake wheels size 125 mm

Couch height between 46-101 cm

Weight 80 kg

Max. Load 250 kg

Electrical voltage 230/24v

CE – marked
Accessories
Datasheet
Shower couch, scissor lift 1900
HMI no: 103220

|

Product no: BRUSE-SAKS-1900
Care and washing in a shower couch with excellent working conditions. Bed guards can be positioned parallel to the bed surface and thereby facilitate the transfer.
Datasheet
HMI no: 103220

|

Product no: BRUSE-SAKS-1900
Shower couch, scissor lift 1900
Fixed or detachable headboards, mattress with good comfort and proper drainage with screwed on flex hose. The couch can be lowered for easy access from a wheelchair. Stable and with the best wheels that make it easy to move and with central brake system. Equipped with battery function so wiring can be avoided. Good hygiene mattress support formed in one piece light alloy.
Electric height setting
Electric setting of Trendelenburg so that the water runs out of the drain hose
Battery backup with removable battery
Very easy-to-clean wheel frame
Powder coated undercarriage
Shower mattress with fire retardant cold foam in the core and durable waterproof outer cover
Shower mattress can be removed for easy cleaning
2 directionally guided wheels
Technical data
Top surface – 190 x 57 cm

Central brake wheels size 125 mm

Couch height between 46-101 cm

Weight 80 kg

Max. Load 250 kg

Electrical voltage 230/24v

CE – marked
Add-ons
See a list of avaliable spare parts at rehab-care.dk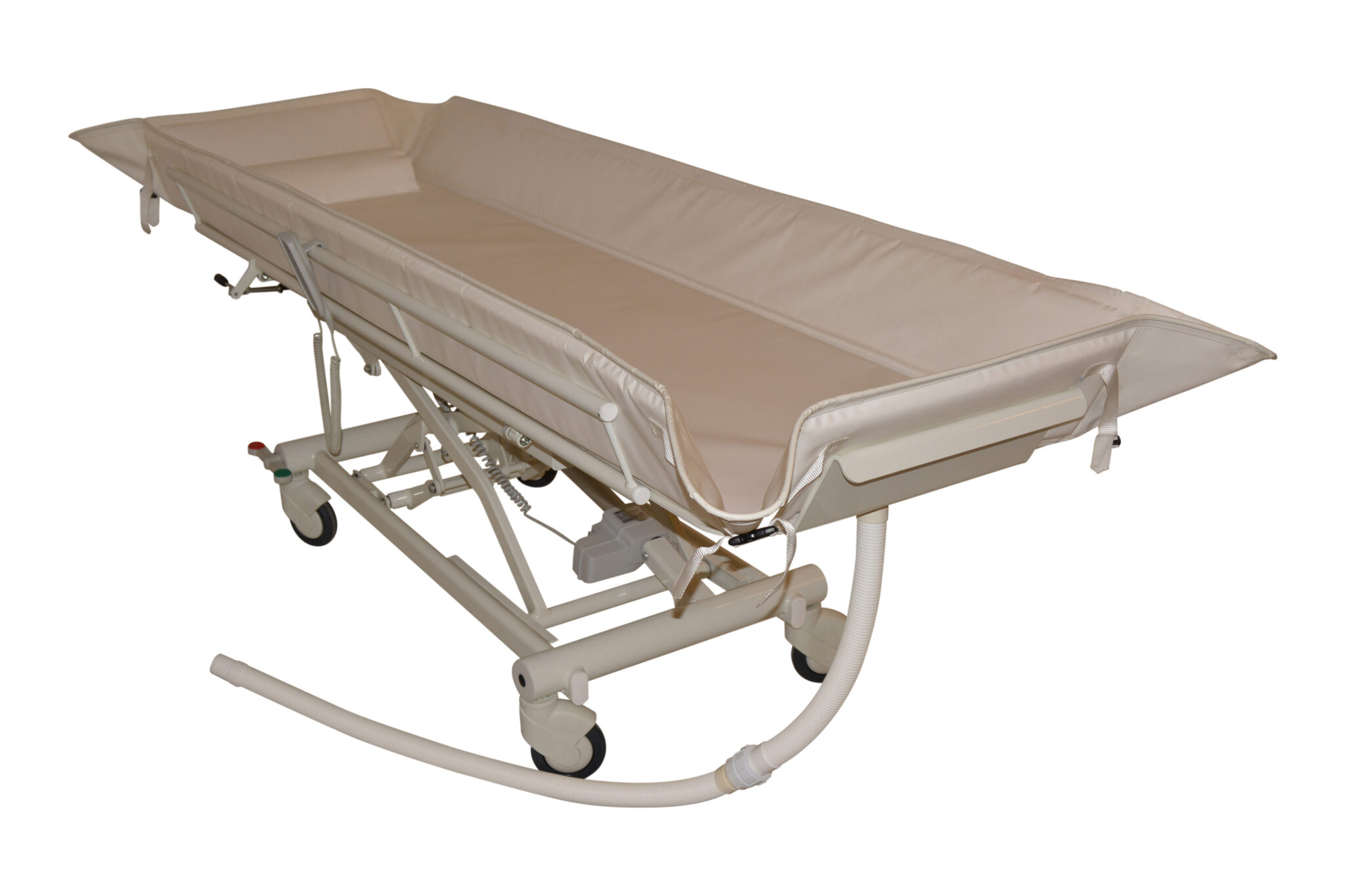 Avnvej 10, DK-7400 Herning | rehab-care.dk
Phone: +45 6915 3000 | E-mail: mg@rehab-care.dk